Eileen Zegar holds a masters degree in Oriental Medicine from Emperors College of Traditional Oriental Medicine. She is a NCCAOM diplomate in Oriental Medicine (National Certification Commission for Acupuncture and Oriental Medicine).
In addition to her studies in Acupuncture, Chinese Herbs, Acupressure and Eastern Massage, Zegar received a Massage Therapy degree from the Institute of Psycho Structural Balancing with additional training in Advanced Therapeutic Massage and Cranial Sacral Unwinding.
After her 2001 Stage II Breast Cancer diagnosis, bi-lateral Mastectomy and participation in a clinical trial, it became clear that she would devote a portion of her practice to assisting other along their cancer journey.
Zegar studied Tai Chi with Master Tim O'Connor of Tai Chi Worx in Los Angeles. Eileen was also trained in Constitutional Facial Acupuncture™ by Mary Elizabeth Wakefield, one of the leading proponents of facial renewal techniques in the world. Most recently she was trained in Subtle Spinal Manipulation by Dr. Benjamin Shields.
Eileen has taught at Emperor's College of Traditional Oriental Medicine, Samra University of Oriental Medicine, and The Shiatsu Massage School of California in Santa Monica. She was on staff at the Simms/Mann UCLA Center for Integrative Oncology, which is part of the UCLA's Jonsson Comprehensive Cancer Center for over ten years, teaching workshops while providing acupressure and massage in the infusion room. Zegar developed and has been operating a no-fee acupuncture program for WeSpark Cancer Support Center in Sherman Oaks, CA weekly for over 12 years.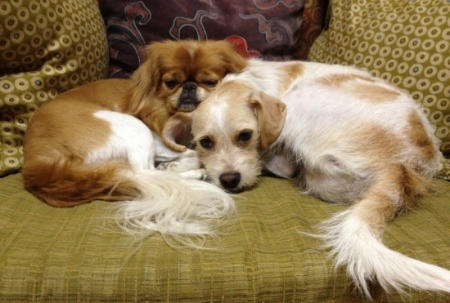 My receptionists and therapy dogs, Ralphie & Joey
Zegar proudly holds a Masters Degree in Fine Arts, from MICA in Baltimore, MD. Her visual arts background supports her passionate respect and amazement at our bodies' design. Being an artist supports a youthful and playful vision of life.
Eileen describes her work as a synthesis of Chinese Medicine, Message and Mindfulness. A strong Buddhist practice keeps her focused on the middle way.
Eileen has traveled much of the world. She loves hiking with her dogs, tennis, swimming and laughing. She is currently working on a memoir about her work in Oncology. She hope to illustrate the final version.
Eileen Zegar provides healthcare in the Los Angeles area. She an office in Beverly Hills, and sees patients once a week in the San Fernando Valley.